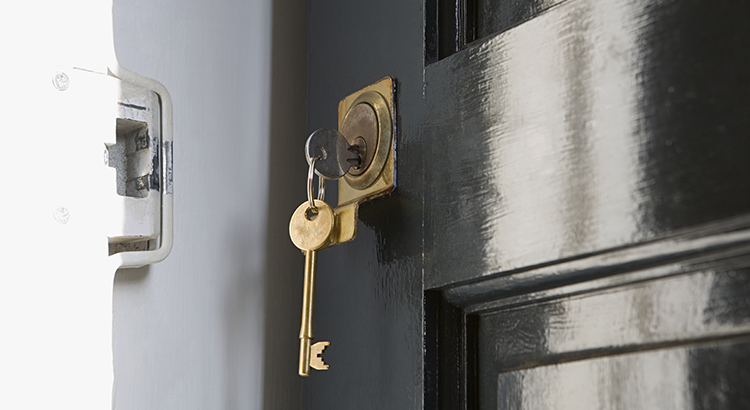 The housing market keeps sailing along. The only headwind that could take it off course is the lack of inventory for sale. The National Association of Realtors (NAR) reports that there were 410,000 fewer single-family homes for sale this March than in March of 2020. The key to continued success in the residential housing market is for more listings to come on the market. However, many homeowners are concerned that selling their homes could be challenging for several reasons.
Recently, Homes.com released the findings of a survey that identified these concerns, as well as what it will take for homeowners to feel comfortable selling their houses. Here are the four major homeowner concerns and a quick explanation of what's actually happening in the housing market today.
1. Homeowners don't know if they'll be able to secure their next home before selling.
In negotiations, leverage is the power that one side may have to influence the other side while moving closer to their negotiating position. A party's leverage is based on the ability to award benefits or eliminate costs on the other side.
In today's market, buyers have compelling reasons to purchase a home now:
To own a home of their own
To buy before prices continue to appreciate
To secure a mortgage at a historically low rate, while they last
These buyer needs give the seller tremendous leverage. Most already realize this leverage enables the homeowner to sell at a good price. However, this leverage may also be used to negotiate time to find their next home. The homeowner could sell their home to the buyer at today's price, which will enable the purchaser to take advantage of current mortgage rates. In return, the buyer might lease the house back to the seller for a pre-determined length of time while the seller finds a new home or has one built.
This gives the buyer what they want while also giving the seller what they need. It's a true win-win negotiation.
2. Homeowners don't know if their current home will sell for the asking price or top market price.
This is the perfect time to maximize profits while selling a house. NAR just released a study showing that bidding wars are at an all-time high. The study reveals that when comparing the first quarter of last year to the first quarter of this year, the number of offers on homes for sale doubled from an average of 2.4 to 4.8 offers.
Whenever there's a bidding war, the price of the item for sale escalates. Bloomberg recently reported:
"For the first time ever, the average U.S. home is selling for above its list price."
If a seller is looking for a top-dollar sale, there's no better time to sell than right now.
3. Homeowners don't know if they will get an offer without their home requiring work or updates.
Again, leverage is the greatest strength a seller has in this market. Due to the lack of homes for sale, many buyers are more willing to take on home improvement projects themselves in order to get the home they're after.
A recent post on whether or not to renovate before selling notes:
"It may be wise to let future homeowners remodel the bathroom or the kitchen to make design decisions that are best for their specific taste and lifestyle. As a seller, your dollars and time might be better spent working on small cosmetic updates, like refreshing some paint and power washing the exterior. Instead of over-investing in your home with upgrades that the buyers may change anyway, work with a real estate professional to determine the key projects that will maximize your listing, without overdoing it."
If a seller is worried about doing work or updates on their home, they must realize that today's historically low inventory likely renders these projects less critical to the sale of the house.
4. Homeowners don't know if they can have a quick closing process.
When speed is important, there are two points sellers should look at:
The time it takes to find a buyer for the home
The time it takes to close the transaction
In the latest Existing Home Sales Report, NAR explains:
"Properties typically remained on the market for 18 days in March, down from 20 days in February and from 29 days in March 2020. Eighty-three percent of the homes sold in March 2021 were on the market for less than a month."
Eighteen days is fast, and it's a new record. Here are the days the average house is on the market in each state: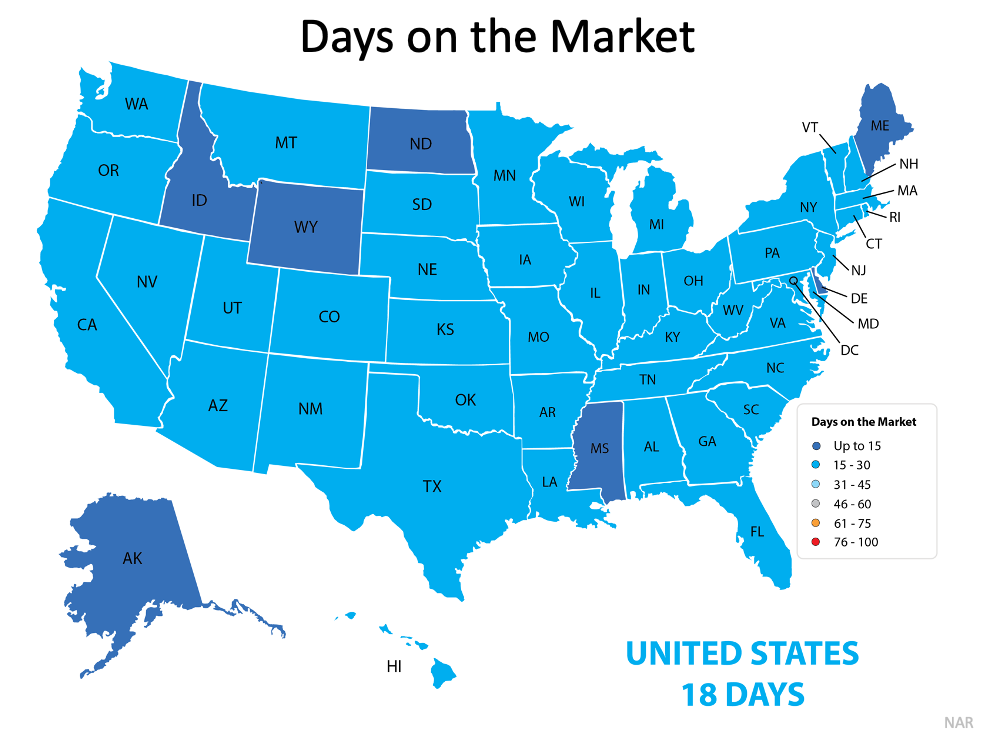 Regarding the time it will take to close the transaction, all-cash sales accounted for 23% of all home purchase transactions in March. All-cash sales can usually be closed in thirty days.
If a mortgage is necessary, the most recent Origination Insight Report from Ellie Mae shows:
"Time to close all loans decreased in March. The average time to close a purchase fell to 51 days, down from 53 the month prior."
If you're looking for a quick closing process, there's never been a market in which the two-step process (finding a buyer and closing the deal) has taken less time.
Bottom Line
Selling your house can be daunting, especially in a fast-paced market. However, the fact that we're in such a strong sellers' market clearly eliminates many common concerns. Let's connect today so you can learn more about the opportunities for homeowners who are ready to sell.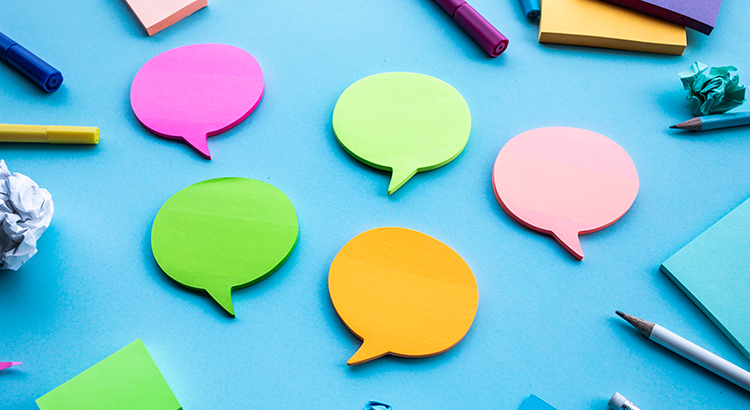 So far this year, mortgage rates continue to hover around 3%, encouraging many hopeful homebuyers to enter the housing market. However, there's a good chance rates will increase later this year and going into 2022, ultimately making it more expensive to borrow money for a home loan. Here's a look at what several experts have to say.
"Our long-term view for mortgage rates in 2021 is higher. As the economic outlook strengthens, thanks to progress against coronavirus and vaccines plus a dose of stimulus from the government, this pushes up expectations for economic growth . . . ."
"In 2021, I think rates will be similar or modestly higher . . . mortgage rates will continue to be historically favorable."
"We forecast that mortgage rates will continue to rise through the end of next year. We estimate the 30-year fixed mortgage rate will average 3.4% in the fourth quarter of 2021, rising to 3.8% in the fourth quarter of 2022."
Below are the most recent mortgage rate forecasts from four top authorities – Freddie Mac, Fannie Mae, the Mortgage Bankers Association (MBA), and NAR: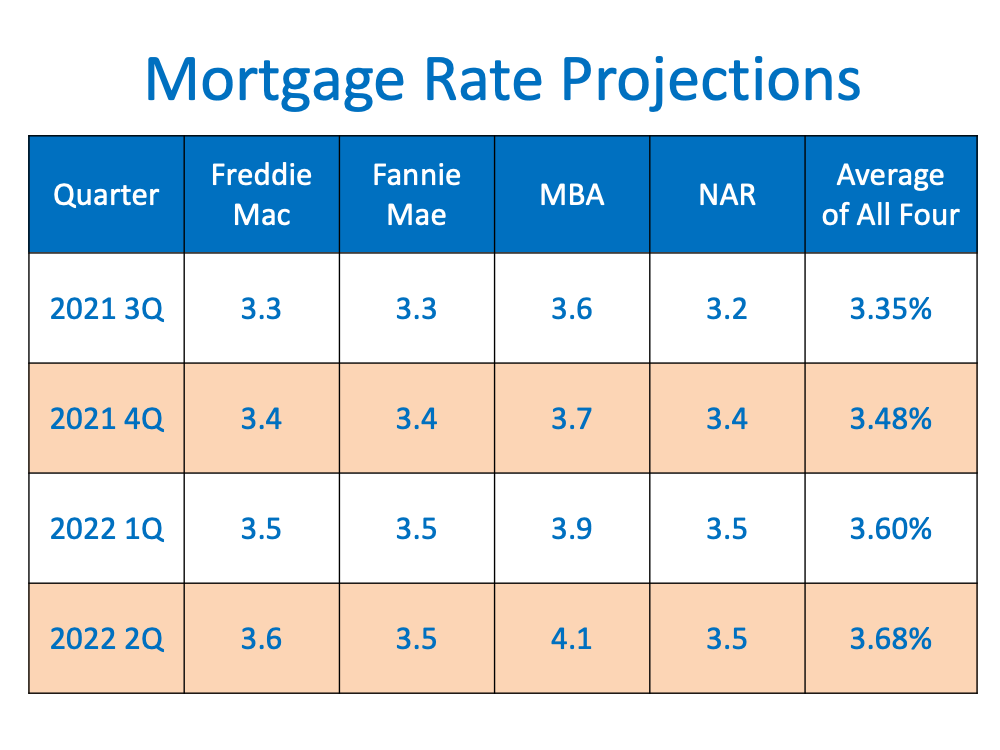 Bottom Line
If you're planning to buy a home, purchasing before mortgage interest rates rise may help you save significantly over the life of your home loan.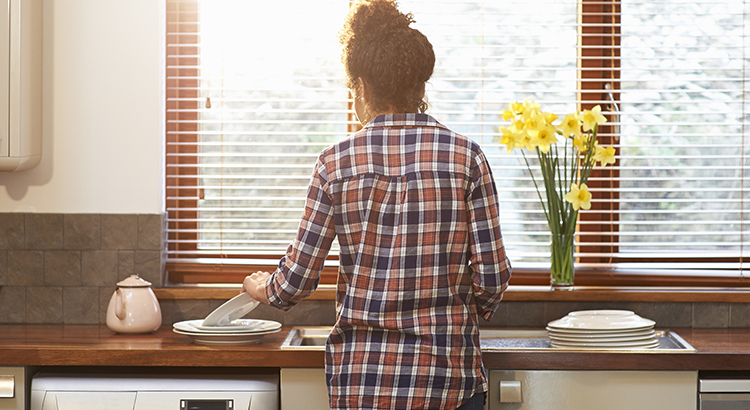 Many people are sitting on the fence trying to decide if now's the time to buy a home. Some are renters who have a strong desire to become homeowners but are unsure if buying right now makes sense. Others may be homeowners who are realizing that their current home no longer fits their changing needs.
To determine if they should buy now or wait another year, they both need to ask two simple questions:
Do I think home values will be higher a year from now?
Do I think mortgage rates will be higher a year from now?
Let's shed some light on the answers to these questions.
Where will home prices be a year from now?
If you average the most recent projections from the major industry forecasters, the expectation is home prices will increase by 7.7%. Let's take a house that's valued today at $325,000 as an example.
If the buyer makes a 10% down payment ($32,500), they'll end up borrowing $292,500 for their mortgage. Applying the projected rate of home price appreciation, that same house will cost $350,025 next year. With a 10% down payment ($35,003), they'd then have to borrow $315,022.
Therefore, as a result of rising home prices alone, a prospective buyer will have to put down an additional $2,503 and borrow an additional $22,523 just for waiting a year to make their move.
Where will mortgage rates be a year from now?
Today, mortgage rates are hovering around 3%. However, most experts believe they'll rise as the economy continues to recover. Any increase in the mortgage rate will also increase a purchaser's cost. Here are the forecasts for the first quarter of 2022 from four major entities:
The projections average out to 3.6% among these four forecasts, a jump up from where they are today.
What does it mean to you if home values and mortgage rates increase?
A buyer will pay a lot more in mortgage payments each month if both of these variables increase. Assuming a buyer purchases a $325,000 home this year with a 30-year fixed-rate loan at 3% after making a 10% down payment, their monthly principal and interest payment would be $1,233.
That same home one year from now could be $350,025, and the mortgage rate could be 3.6% (based on the industry forecasts mentioned above). That monthly principal and interest payment, after putting down 10%, totals $1,432.
The difference in the monthly mortgage payment would be $199. That's $2,388 more per year and $71,640 over the life of the loan.
Add to that the approximately $25,000 a house with a similar value would build in home equity this year as a result of home price appreciation, and the total net worth increase a purchaser could gain by buying this year is nearly $100,000. That's a small fortune.
Bottom Line
When asking if they should buy a home, many potential buyers think of the nonfinancial benefits of owning a home. When asking when to buy, the financial benefits make it clear that doing so now is much more advantageous than waiting until next year.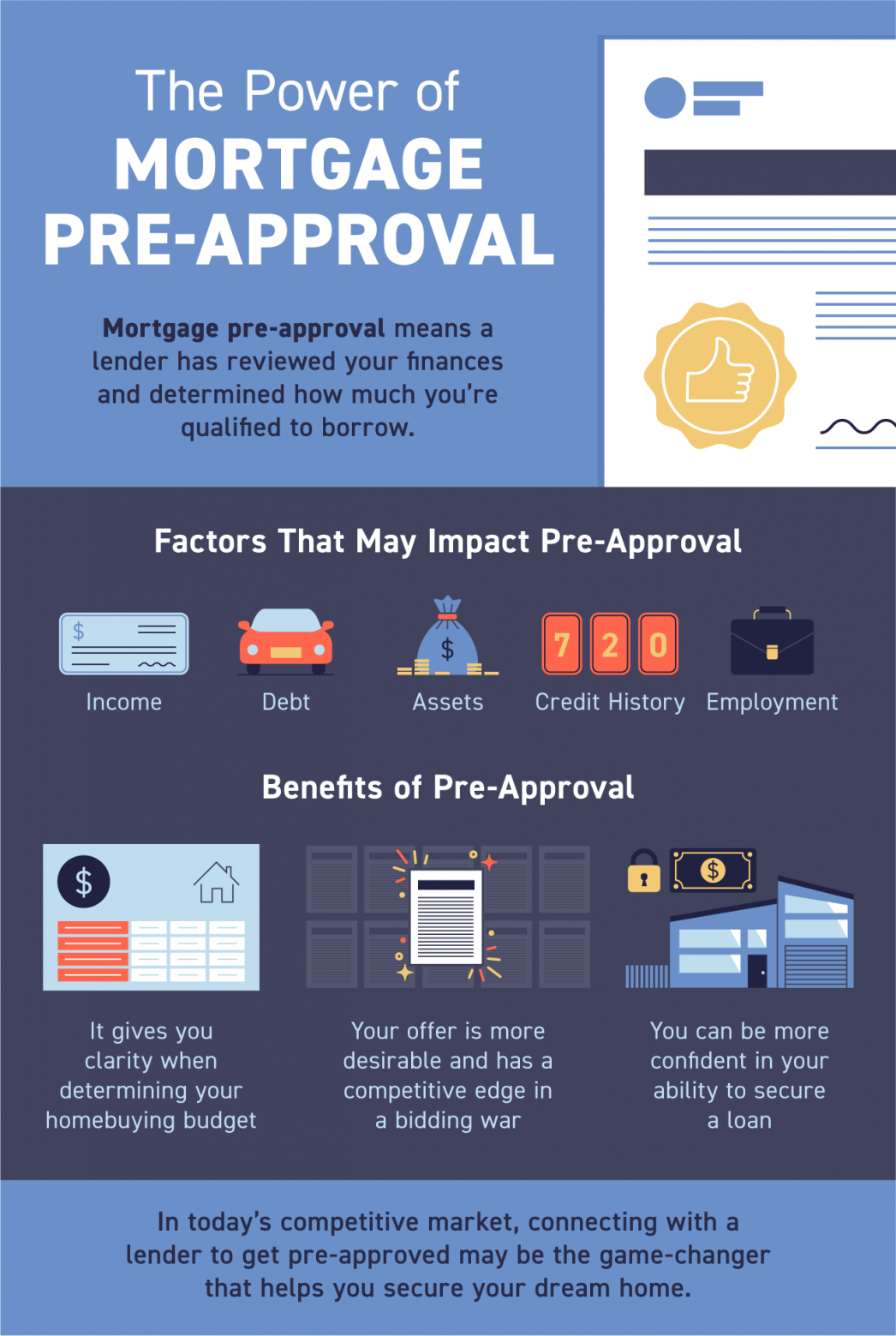 Some Highlights 
Mortgage pre-approval means a lender has reviewed your finances and, based on factors like your income, debt, and credit history, determined how much you're qualified to borrow.
Being pre-approved for a loan can give you clarity while planning your homebuying budget, confidence in your ability to secure a loan, and a competitive edge in a bidding war.
In today's market, connecting with a lender to get pre-approved may be the game-changer that helps you secure your dream home.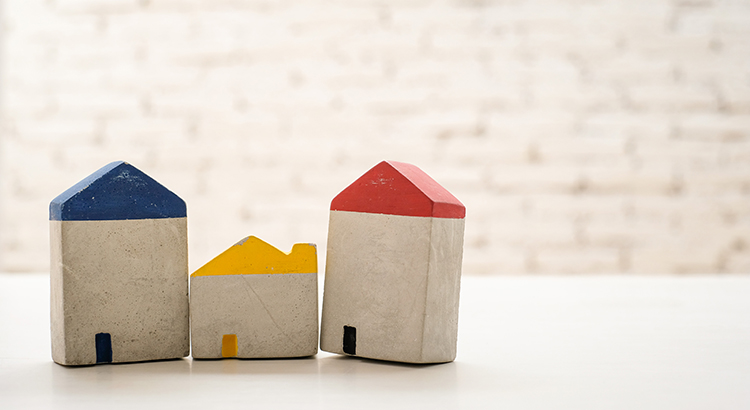 There's no doubt that 2021 is the year of the seller when it comes to the housing market. If you're a homeowner thinking of moving to better suit your changing needs, now is the perfect time to do so. Low mortgage rates are in your favor when you're ready to purchase your dream home, and high buyer demand may give you the leverage you need to negotiate the best contract terms on the sale of your house. Here's a look at what's driving this sellers' advantage and why there's so much opportunity for homeowners who are ready to move this season.
1. Historically Low Inventory
The National Association of Realtors (NAR) explains:
 "Total housing inventory at the end of March amounted to 1.07 million units, up 3.9% from February's inventory . . . Unsold inventory sits at a 2.1-month supply at the current sales pace, marginally up from February's 2.0-month supply and down from the 3.3-month supply recorded in March 2020."
Even with a slight rise in the number of houses for sale this spring, inventory remains near an all-time low (See graph below):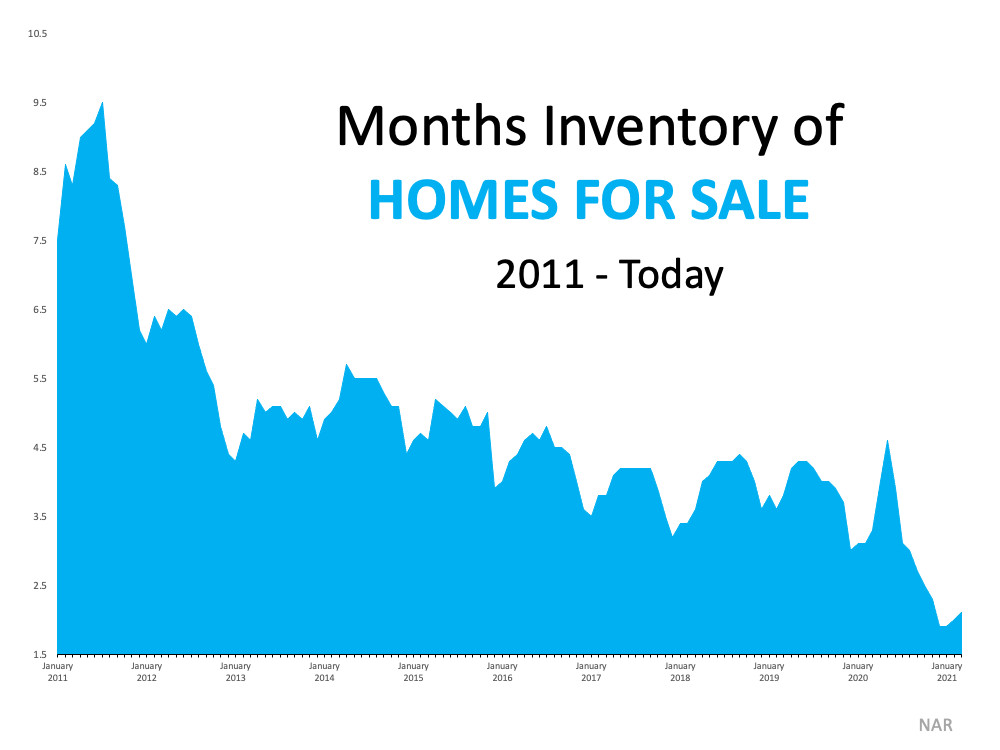 High buyer interest is creating a major imbalance between supply and demand, but as the small uptick in inventory shows, sellers are beginning to reenter the market. Selling your house now enables you to take advantage of buyer demand and get the most attention for your house – before more listings come to the market later this year.
2. Frequent Bidding Wars
As a result of the supply and demand imbalance, homebuyers are entering bidding wars at an accelerating rate. NAR reports the average number of bids received on the most recently closed sales is 4.8 offers. This number has doubled since the first quarter of 2020 (See graph below):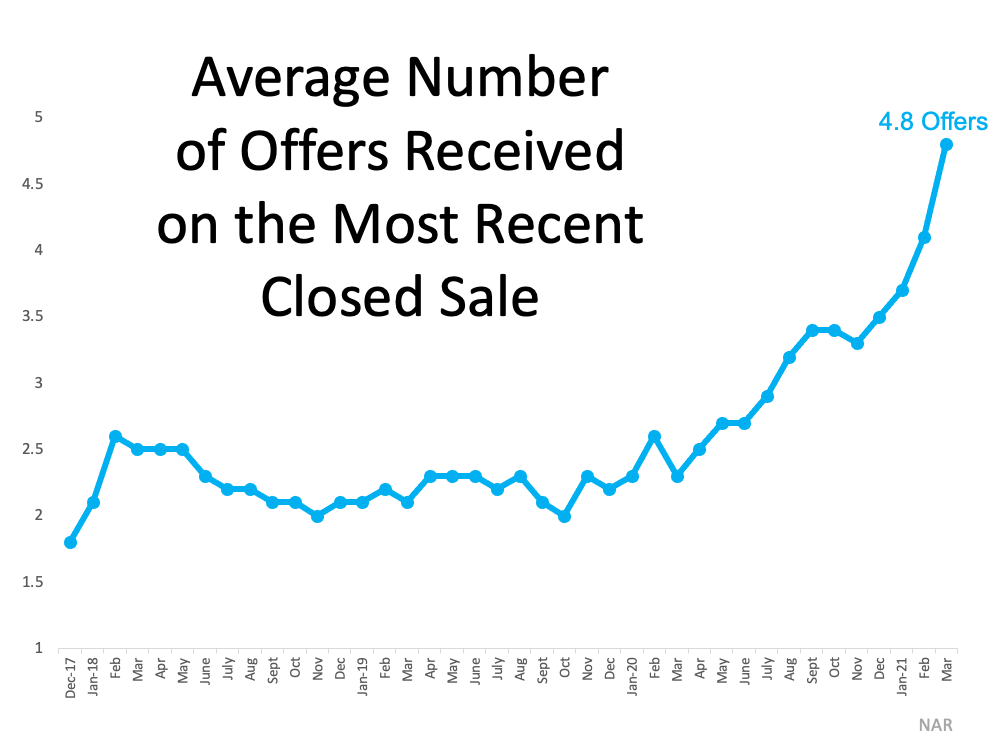 As buyers face increasingly tough competition while searching for homes to purchase, they're more likely to be flexible and generous in their negotiations. This gives a seller the opportunity to choose the best buyer for their needs and be selective about things like time to close, contingencies, renovations, and more. Working with your trusted agent is the best way to determine how to navigate the negotiation process when selling your house.
3. Days on the Market
In today's market, sellers aren't waiting very long to find a buyer for their house, either. NAR reports:
"Properties typically remained on the market for 18 days in March, down from 20 days in February and from 29 days in March 2020. 83% of the homes sold in March 2021 were on the market for less than a month." (See graph below):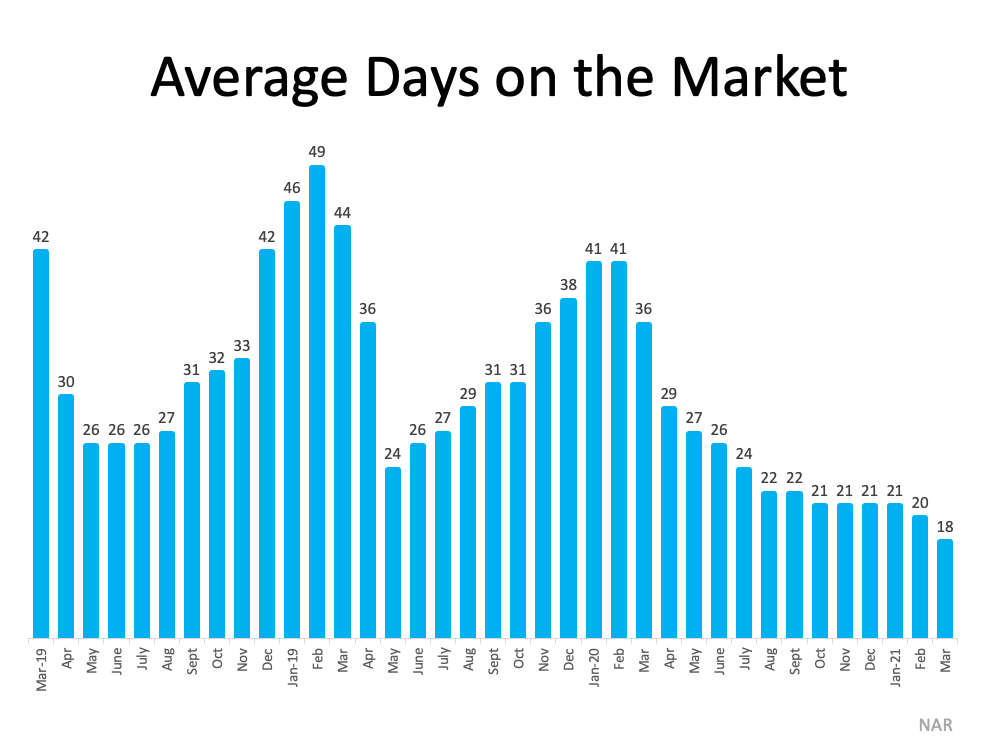 NAR Chief Economist Lawrence Yun explains:
"The sales for March would have been measurably higher, had there been more inventory…Days-on-market are swift, multiple offers are prevalent, and buyer confidence is rising."
Bottom Line
If you're thinking about moving, these three graphs clearly show that it's a great time to sell your house. Let's connect today so you can learn more about the opportunities in our local area.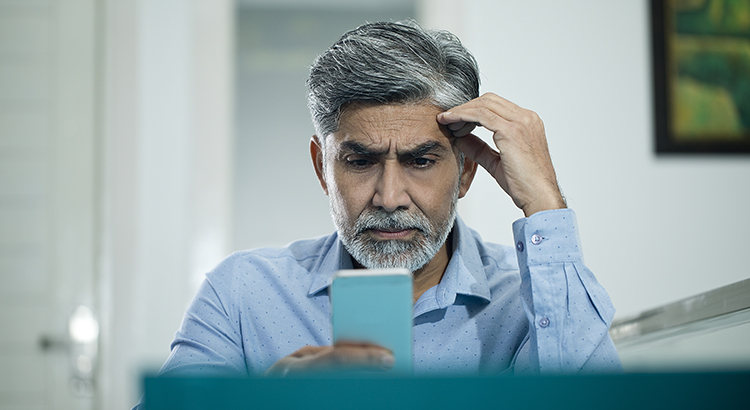 Last Thursday, Freddie Mac announced that their 30-year fixed mortgage rate was over 3% (3.02%) for the first time since last July. That news dominated real estate headlines that day and the next. Articles talked about the "negative impact" it may have on the housing market. However, we should realize two things:
1. The bump-up in rate should not have surprised anyone. Many had already projected that rates would rise slightly as we proceeded through the year.
2. Freddie Mac's comments about the rate increase were not alarming:
"The rise in mortgage rates over the next couple of months is likely to be more muted in comparison to the last few weeks, and we expect a strong spring sales season."
A "muted" rise in rates will not sink the real estate market, and most experts agree that it will be "a strong spring sales season."
What does this mean for you?
Obviously, any buyer would rather mortgage rates not rise at all, as any upward movement increases their monthly mortgage payment. However, let's put a 3.02% rate into perspective. Here are the Freddie Mac annual mortgage rates for the last five years:
2016: 3.65%
2017: 3.99%
2018: 4.54%
2019: 3.94%
2020: 3.11%
Though 3.02% is not as great as the sub-3% rates we saw over the previous seven weeks, it's still very close to the all-time low (2.66% in December 2020).
And, if we expand our look at mortgage rates to consider the last 50 years, we can see that today's rate is truly outstanding. Here are the rates over the last five decades:
1970s: 8.86%
1980s: 12.7%
1990s: 8.12%
2000s: 6.29%
2010s: 4.09%
Being upset that you missed the "best mortgage rate ever" is understandable. However, don't throw the baby out with the bathwater. Buying now still makes more sense than waiting, especially if rates continue to bump up this year.
Bottom Line
It's true that you may not get the same rate you would have five weeks ago. However, you will get a better rate than what was possible at almost any other point in history. Let's connect today so you can lock in a great rate while they stay this low.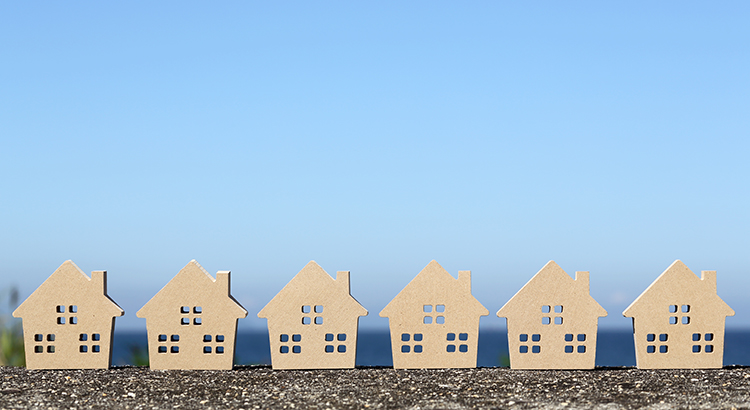 Last March, many involved in the residential housing industry feared the market would be crushed under the pressure of a once-in-a-lifetime pandemic. Instead, real estate had one of its best years ever. Home sales and prices were both up substantially over the year before. 2020 was so strong that many now fear the market's exuberance mirrors that of the last housing boom and, as a result, we're now headed for another crash.
However, there are many reasons this real estate market is nothing like 2008. Here are six visuals to show the dramatic differences.
1. Mortgage standards are nothing like they were back then.
During the housing bubble, it was difficult not to get a mortgage. Today, it's tough to qualify. Recently, the Urban Institute released their latest Housing Credit Availability Index (HCAI) which "measures the percentage of owner-occupied home purchase loans that are likely to default—that is, go unpaid for more than 90 days past their due date. A lower HCAI indicates that lenders are unwilling to tolerate defaults and are imposing tighter lending standards, making it harder to get a loan. A higher HCAI indicates that lenders are willing to tolerate defaults and are taking more risks, making it easier to get a loan."
The index shows that lenders were comfortable taking on high levels of risk during the housing boom of 2004-2006. It also reveals that today, the HCAI is under 5 percent, which is the lowest it's been since the introduction of the index. The report explains:
"Significant space remains to safely expand the credit box. If the current default risk was doubled across all channels, risk would still be well within the pre-crisis standard of 12.5 percent from 2001 to 2003 for the whole mortgage market."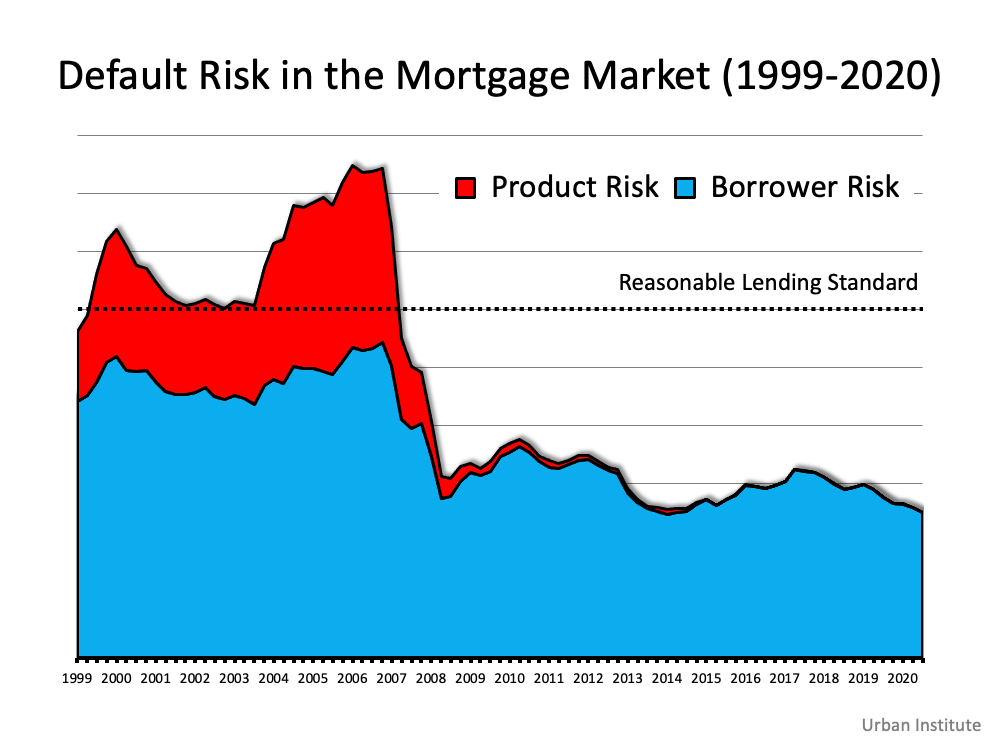 This is nothing like the last time.
2. Prices aren't soaring out of control.
Below is a graph showing annual home price appreciation over the past four years compared to the four years leading up to the height of the housing bubble. Though price appreciation was quite strong last year, it's nowhere near the rise in prices that preceded the crash.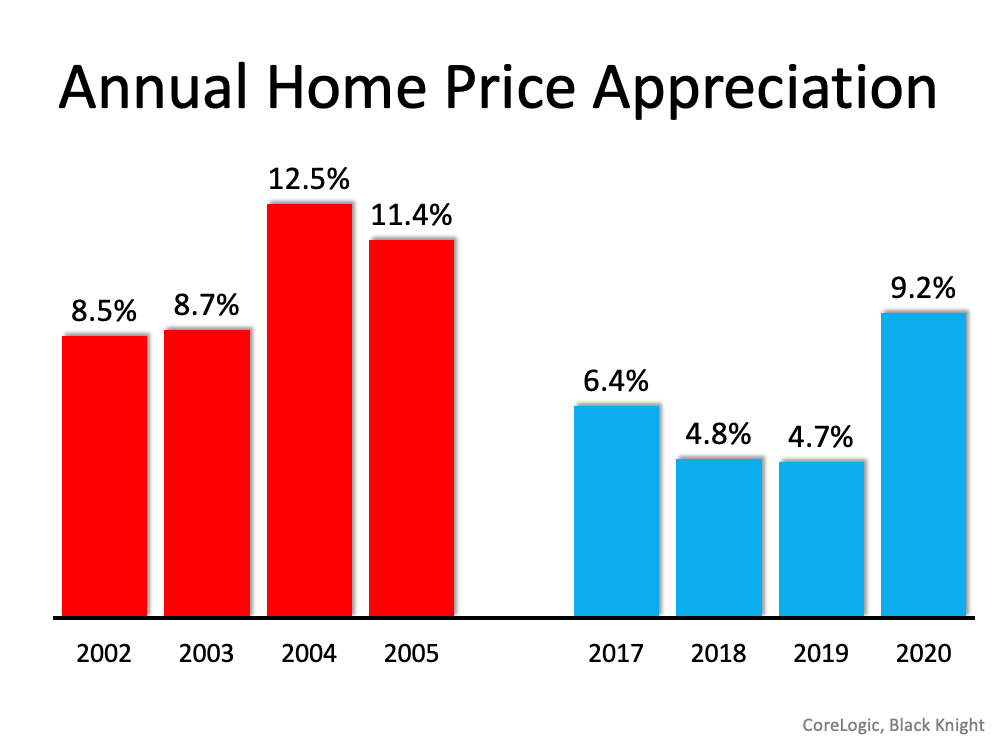 There's a stark difference between these two periods of time. Normal appreciation is 3.8%. So, while current appreciation is higher than the historic norm, it's certainly not accelerating out of control as it did in the early 2000s.
This is nothing like the last time.
3. We don't have a surplus of homes on the market. We have a shortage.
The months' supply of inventory needed to sustain a normal real estate market is approximately six months. Anything more than that is an overabundance and will causes prices to depreciate. Anything less than that is a shortage and will lead to continued appreciation. As the next graph shows, there were too many homes for sale in 2007, and that caused prices to tumble. Today, there's a shortage of inventory, which is causing an acceleration in home values.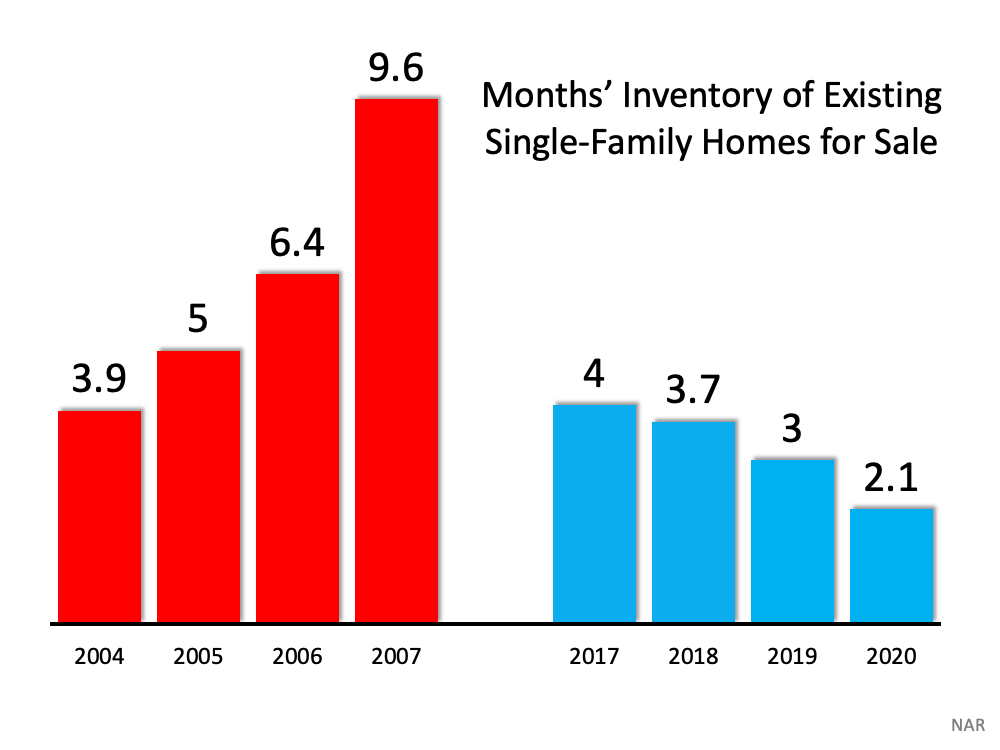 This is nothing like the last time.
4. New construction isn't making up the difference in inventory needed.
Some may think new construction is filling the void. However, if we compare today to right before the housing crash, we can see that an overabundance of newly built homes was a major challenge then, but isn't now.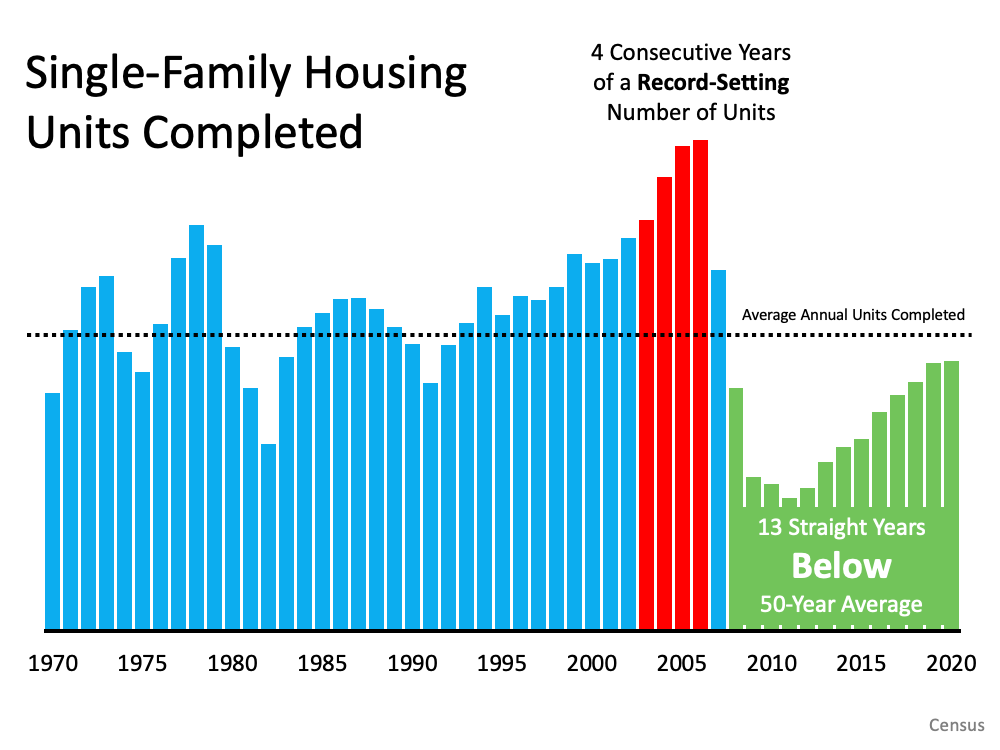 This is nothing like the last time.
5. Houses aren't becoming too expensive to buy.
The affordability formula has three components: the price of the home, the wages earned by the purchaser, and the mortgage rate available at the time. Fifteen years ago, prices were high, wages were low, and mortgage rates were over 6%. Today, prices are still high. Wages, however, have increased, and the mortgage rate is about 3%. That means the average homeowner pays less of their monthly income toward their mortgage payment than they did back then. Here's a chart showing that difference: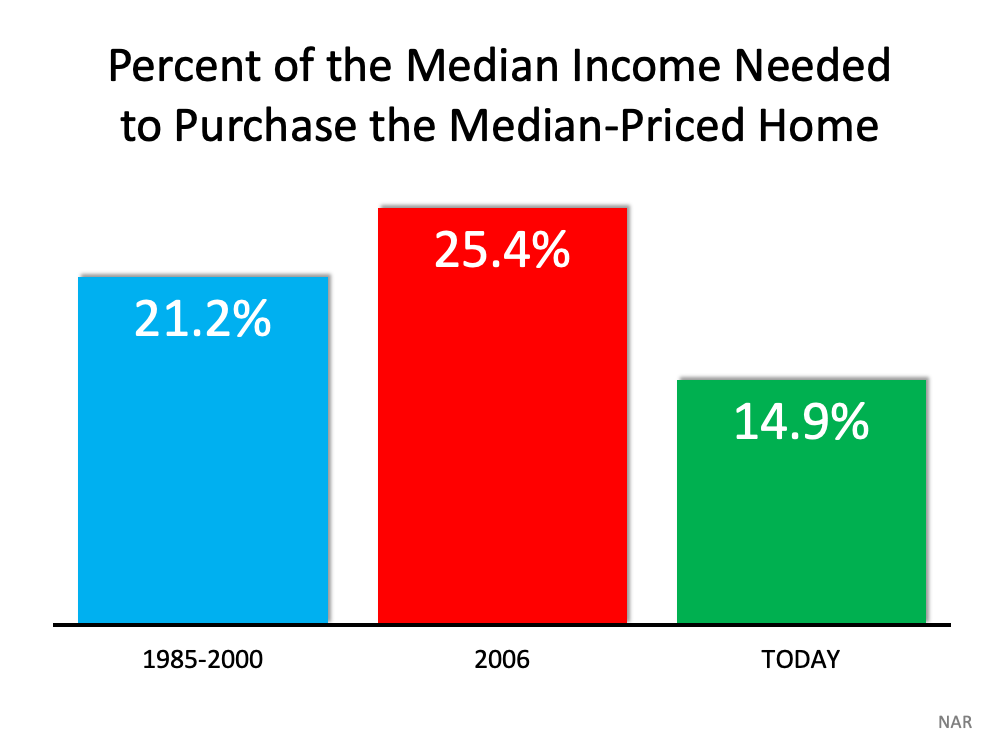 As Mark Fleming, Chief Economist for First American, explains:
"Lower mortgage interest rates and rising incomes correspond with higher house prices as home buyers can afford to borrow and buy more. If housing is appropriately valued, house-buying power should equal or outpace the median sale price of a home. Looking back at the bubble years, house prices exceeded house-buying power in 2006, but today house-buying power is nearly twice as high as the median sale price nationally."
This is nothing like the last time.
6. People are equity rich, not tapped out.
In the run-up to the housing bubble, homeowners were using their homes as personal ATM machines. Many immediately withdrew their equity once it built up, and they learned their lesson in the process. Prices have risen nicely over the last few years, leading to over 50% of homes in the country having greater than 50% equity – and owners have not been tapping into it like the last time. Here's a table comparing the equity withdrawal over the last three years compared to 2005, 2006, and 2007. Homeowners have cashed out almost $500 billion dollars less than before: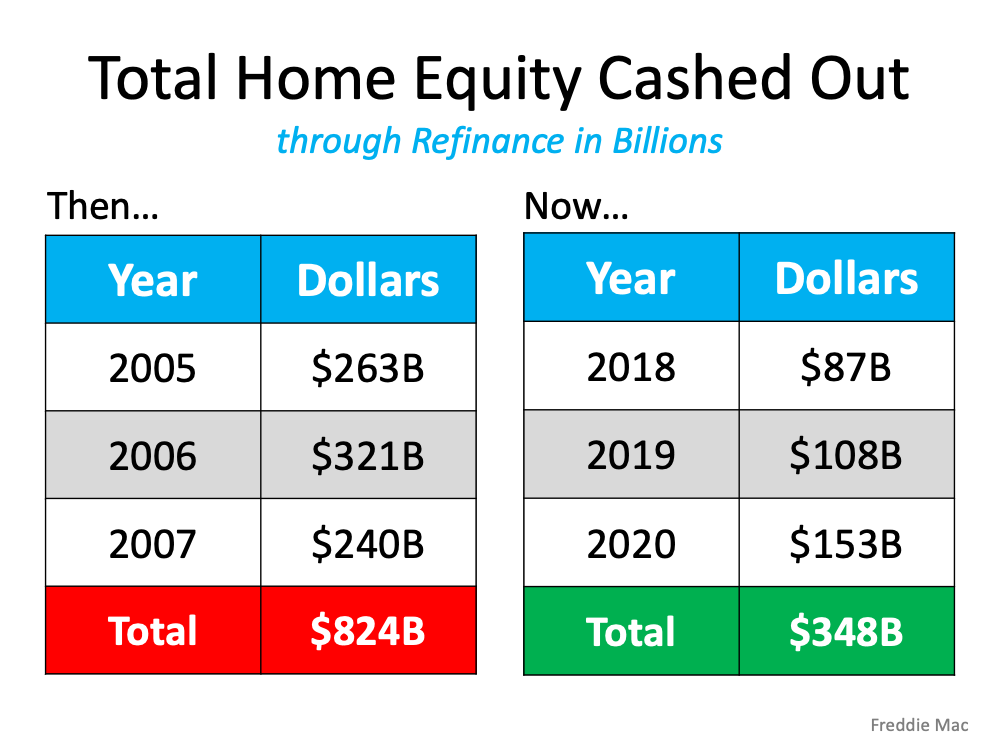 During the crash, home values began to fall, and sellers found themselves in a negative equity situation (where the amount of the mortgage they owed was greater than the value of their home). Some decided to walk away from their homes, and that led to a wave of distressed property listings (foreclosures and short sales), which sold at huge discounts, thus lowering the value of other homes in the area. With the average home equity now standing at over $190,000, this won't happen today.
This is nothing like the last time.
Bottom Line
If you're concerned that we're making the same mistakes that led to the housing crash, take a look at the charts and graphs above to help alleviate your fears.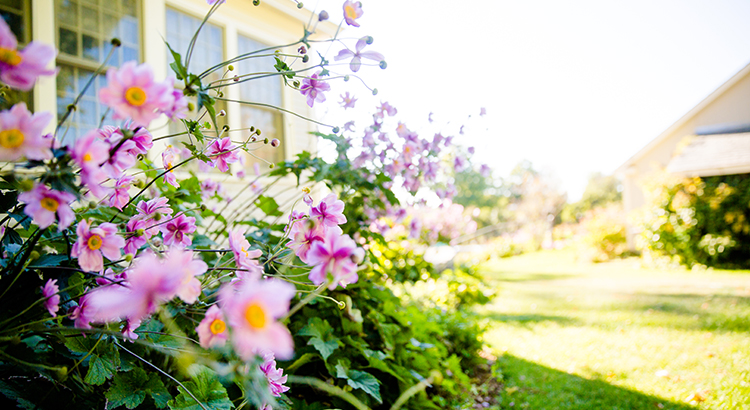 Spring is almost here, and many are wondering what it will bring for the housing market. Even though the pandemic continues on, it's certain to be very different from the spring we experienced at this time last year. Here's what a few industry experts have to say about the housing market and how it will bloom this season.
"Despite early weakness, we expect to see new listings grow in March and April as they traditionally do heading into spring, and last year's extraordinarily low new listings comparison point will mean year over year gains. One other potential bright spot for would-be homebuyers, new construction, which has risen at a year over year pace of 20% or more for the last few months, will provide additional for-sale inventory relief."

"Some people will feel comfortable listing their home during the first half of 2021. Others will want to wait until the vaccines are widely distributed. This suggests more inventory will be for sale in late 2021 and into the spring selling season in 2022."

"Since reaching a low point in January, mortgage rates have risen by more than 30 basis points… However, the rise in mortgage rates over the next couple of months is likely to be more muted in comparison to the last few weeks, and we expect a strong spring sales season."
"As the housing market heads into the spring home buying season, the ongoing supply and demand imbalance all but assures more house price growth…Many find it hard to believe, but housing is actually undervalued in most markets and the gap between house-buying power and sale prices indicates there's room for further house price growth in the months to come."
Bottom Line
The experts are very optimistic about the housing market right now. If you pressed pause on your real estate plans over the winter, let's chat to determine how you can re-engage in the homebuying process this spring.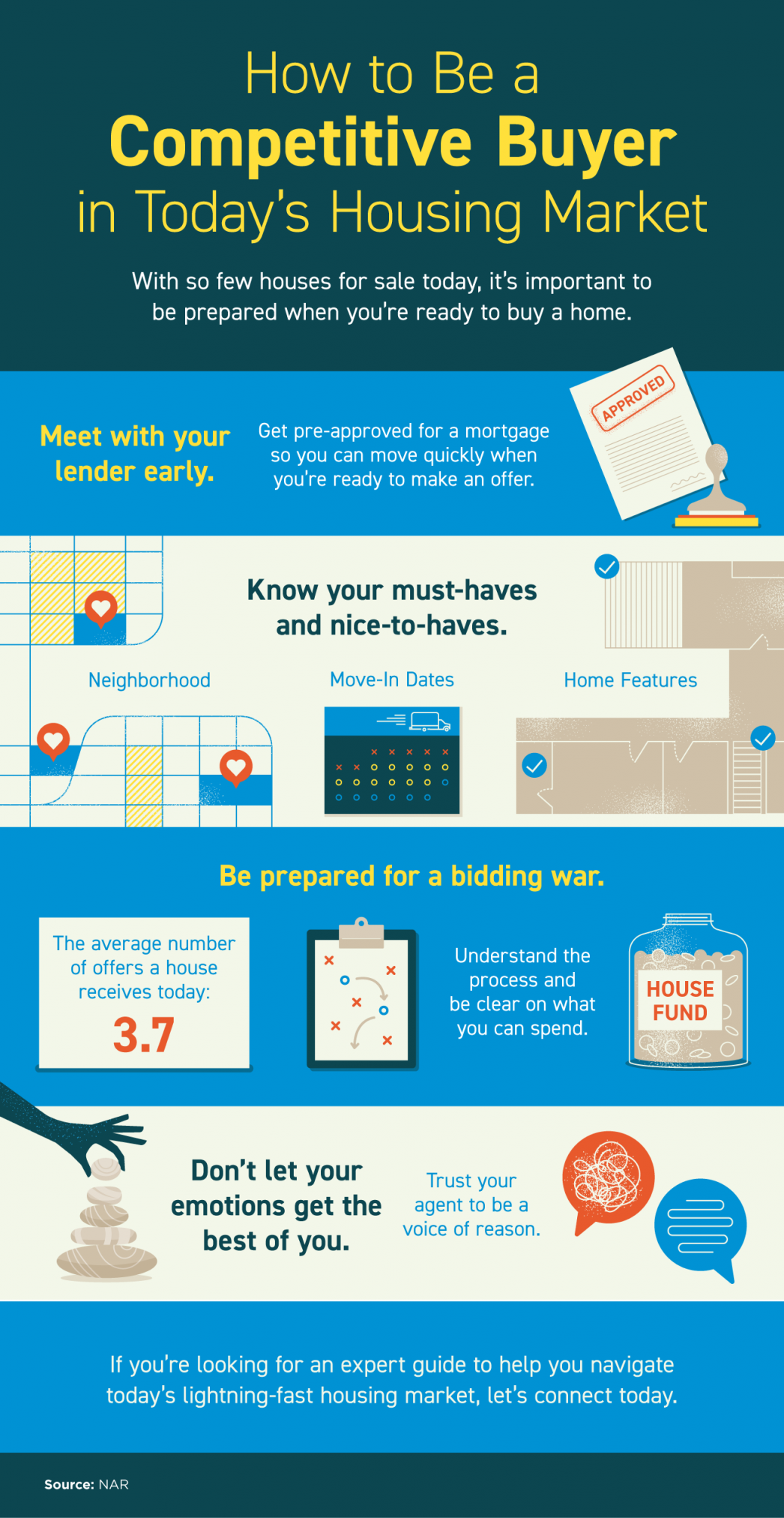 Some Highlights
Meeting with your lender early, knowing your must-haves and nice-to-haves, preparing for a bidding war, and keeping your emotions in check are all ways to gain confidence in the homebuying process.
If you're looking for an expert guide to help you navigate today's lightning-fast housing market, let's connect today.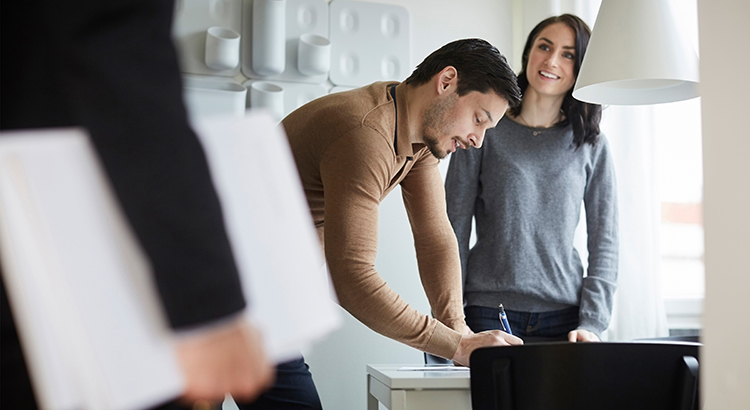 Today's homebuyers are faced with a strong sellers' market, which means there are a lot of active buyers competing for a relatively low number of available homes. As a result, it's essential to understand how to make a confident and competitive offer on your dream home. Here are five tips for success in this critical stage of the homebuying process.
1. Listen to Your Real Estate Advisor
An article from Freddie Mac gives direction on making an offer on a home. From the start, it emphasizes how trusted professionals can help you stay focused on the most important things, especially at times when this process can get emotional for buyers:
"Remember to let your homebuying team guide you on your journey, not your emotions. Their support and expertise will keep you from compromising on your must-haves and future financial stability."
A real estate professional should be the expert guide you lean on for advice when you're ready to make an offer.
2. Understand Your Finances
Having a complete understanding of your budget and how much house you can afford is essential. The best way to know this is to get pre-approved for a loan early in the homebuying process. Only 44% of today's prospective homebuyers are planning to apply for pre-approval, so be sure to take this step so you stand out from the crowd. Doing so make it clear to sellers you're a serious and qualified buyer, and it can give you a competitive edge in a bidding war.
3. Be Prepared to Move Quickly
According to the latest Realtors Confidence Index from the National Association of Realtors (NAR), the average property sold today receives 3.7 offers and is on the market for just 21 days. These are both results of today's competitive market, showing how important it is to stay agile and alert in your search. As soon as you find the right home for your needs, be prepared to submit an offer as quickly as possible.
4. Make a Fair Offer
It's only natural to want the best deal you can get on a home. However, Freddie Mac also warns that submitting an offer that's too low can lead sellers to doubt how serious you are as a buyer. Don't make an offer that will be tossed out as soon as it's received. The expertise your agent brings to this part of the process will help you stay competitive:
"Your agent will work with you to make an informed offer based on the market value of the home, the condition of the home and recent home sale prices in the area."
5. Stay Flexible in Negotiations
After submitting an offer, the seller may accept it, reject it, or counter it with their own changes. In a competitive market, it's important to stay nimble throughout the negotiation process. You can strengthen your position with an offer that includes flexible move-in dates, a higher price, or minimal contingencies (conditions you set that the seller must meet for the purchase to be finalized). Freddie Mac explains that there are, however, certain contingencies you don't want to forego:
"Resist the temptation to waive the inspection contingency, especially in a hot market or if the home is being sold 'as-is', which means the seller won't pay for repairs. Without an inspection contingency, you could be stuck with a contract on a house you can't afford to fix."
Bottom Line
Today's competitive market makes it more important than ever to make a strong offer on a home. Let's connect to make sure you rise to the top along the way.